Introduction to Modus Vivendi by Hans Ehrenstrale, an autobiography

As a professional traveller both for business and pleasure, to different and fantastic lands has led me to comparisons with Harry Martinssons ships-cook in "Voyage with no End"; he who in the cabin of the ms Seaforger in the middle of the large river sat next to his tin pail with a knife in his hand and thought deeply:

"…and now I am peeling potatoes in the deepest of Congo."

Deepest Congo was never one of the magic destinations of my Swedish boyhood. I had however read enough classical adventure stories and the worlds they took place in to never find the geographical clichés empty, no matter how trivial my mission.

One February evening in 1944 whilst standing at the Acropolis my thoughts were on the starving Greek people below me in Athens. A few years later I watched Cheops Pyramid from my terrace at the Meena House hotel, all the time remembering the bilharzia patients I had earlier visited in a Cairo clinic. At Byblos it wasn't the Phoenicians but the Palestinian refugees miserable existence which overwhelmed me. And at Fort Jesus I could have been leafing through a swash-buckling Portugese adventure story instead of the plans for a hydro-electrical dam.

And why not, as it happened in 1965 on a small steamer in the Stanleypool on a crossing from Tschombes capital to Brazzaville, listen to an FAO-agronomical experts' enthusiasm for a new type of potato perfectly adapted , according to Dr Manzour, for the dark soils of deepest Congo?

Aid, as in today's language, foreign aid, catastrophe assistance, international welfare, call it what one might, the projects and programmes, input and output, technology and training, production and consumerism, investment and profitability – all these things you read to the point of boredom in the press when speaking of matters related to the third world or developing nations as the newer correct term may be.

It could be a manifestation of solidarity and humanity. In any case it is about brotherhood with one's fellow human beings. On those grounds and with very clear ideological motives, I threw myself into action when given a chance in 1943.

Since then, I have belonged to the Swedish Red Cross, Swedish Save the Children, Europa-hjalpen (the Swedish Help to Europe), UNICEF, UNDP, United Nations, and Amnesty International. A few years ago I had to stop the kicking apostle-horses on account of age and related phenomena. I can however still today feel how those kicking racehorses are ready to go on a mission again.

As if I had not had enough globetrotting!

I stayed at the Vier Jahreszeiten hotel in Hamburg soon after the German capitulation. The hotel management gave me the hotels most magnificent suite which had for years been reserved for the Fuhrer selbst (himself). It was out of bounds to the allied officers so what was more natural, during those times when there was of lack of hotel accommodation, than to give it to a neutral Suede on official business to the British occupation zone, who had to overcome his discomfort and fear of ghosts to creep into Hitlers' old bed. I slept extremely well considering, on the pillow of a good concience.

It was less controversial to find room in the rather shabby government guest villa in Mogadiscio in Somalia on the horn of Africa. In due course the El-Kaf family in Tarim, a sort of Muslim Vatican state in the desert of Rub-el-Khalil, became my hosts. I slept in a schoolroom in Hit in Irak on the site of the antique Babylonian city of Ur. In a tent by the Caspian Sea, in a tree cabin at the Grand Hotel Baobab, and in a prison for a few nights in Bari until the mystery of the unbelievable cabinet-passport had been solved. In addition I was interned incommunicado in Libreville whilst the Minister of Foreign Affairs and the Chief of Police bickered about how an emissary of Amnesty Internationals Human Rights organisation should best be treated.

I can not forget many nights spent in car seats and hundreds under mosquito nets in tropical comfort. The most unforgettable was a sleepless roofless night under the Southern Cross!

The accounting becomes superficial and impressive notations but should one keep going deeper then I risk getting stuck in the details of memories. It has been a neither here-nor-there type of life and I have been happy to have found in my wife a loving friend with whom not only to share beds of varying comfort and luxury but all other aspects which belong to an international servants life, not only in the job involved but its conditions and terms be they about hepatatis, typhus or other risks of the job or our common conspiracy to gain the Nobel price on behalf of others. And we never pretended to being the sole instigators to have launched candidates for the wellknown price. In any case UNICEF received the Peace Prize in 1960, five years after we started to campaign in its favour in the Beirut based Al-Hayat newspaper. Amnesty International received the same distinction in 1977.

And in a sort of suitable and speedy continuation I became indirectly involved (with Dorothea Brombergs publishing house) in Czeslav Milosz winning the Nobel prize of literature in 1980.

No, I do not wish to go on endlessly about all my foster-children, the very many, which I have cared for during my career and travels: children's homes, schools, hospitals, laboratories, work-shops, factories, universities, model-farms, airports, roads, dairies, TV stations and educational establishments, dam constructions, even churches, mosques, synagogues as well as one Bahai temple.

All these statistics tend to sound pompous. However the citation of statistics shows how relatively important or in my case how quantitatively unimportant all of it has been.

What does it matter that I have during thirty five years from 1943 to 1979 travelled about one million miles in international service, in the beginning purely humanitarian, later on economic Development missions. The last two years of my career were spent engaged in problems of political prisoners to the point of being arrested myself! During periods of one to eight years I have lived in twelve cities, been accredited to 34 countries and states, administered 2000 projects to a total worth of about $3 billion US.

In and out of government offices, ministries, provincial seats and general governments, communal organisations, I have carried a bulky briefcase with proposals, budgets, plans, agreements, accounts, not unlike countless other bureaucrats in the import and export branches. I have patiently waited in antechambers belonging to directors of cabinets and chiefs of protocol to be allowed to see the suitable Excellency's or Princes.

The temptation to overdramatize a fascinating world figure such as Dag Hammarsjkold is enormous. He was that times symbol in the history of the UN which introduced freedom and self-sufficiency to many newly independent countries. It has been said – with exageration – that he was the western concience and guilt personified which would have led him to take certain decisions on such global problems as colonialism and imperialism. Analysts have concluded that Hammarsjkold's work had much to do with his personal idelaism, juridic formality and abstract outlook, and this showed in his disposition to favour the developing world to the might of the west and the developed nations. This explains his tendencies as inherited and influenced by the ideological origins of Sweden.

I can not pretend to have known him. I met him on several occasions when he seemed as bothered to have to meet and deal with a fellow countryman as I was myself in a similar situation with Swedes met in the course of work for the UN. I assumed that our attitudes stemmed from a shared apprehension of what exactly neutrality demanded of a serious public official.

I could have understood his aloofness when I first met him together with my then boss Dr Charles Egger in New York when we were introduced by Maurice Pate. Having had compliments the day before by Israel's Zena Harman and Irak's Awni Khalidy for a report I had presented to the Executive Board (UN E/ICEF 203) on the Middle East, I felt the wind in my sails. At that moment the UN General Secretary asked Egger and myself a question about the Palestinian problem. The Swiss answered that he had no opinion on such a hot topic. I felt that a more active UN contribution would be suitable . Instinctively I felt that Hammarsjkold preferred the more passive answer: my opinion was misplaced even if I was prepared to justify it.

Several months later a small delegation stood at Beirut's new, as yet unfinished, airport to meet the general secretary whilst in transit on his way to China. It was New Year's Eve 1954 and we spent the first hours of the new year in a waiting room with a boyishly excited Hammarskjold. His journey was of great importance both politically and emotionally as it could be the first real opening to China since the second World War. Much groundwork had been covered over an extended period of time and with the probability of the General Secretary's trip going ahead. It was still unclear what degree of welcome he would receive in Peking. Much secret diplomacy had taken place at top level. We knew that he had met the British Prime Minister Anthony Eden in London the evening before. The UN Radio station in Jerusalem had been warned previously that an important announcement would arrive and it was with such a message from Chou En-Lai in hand that I received Hammarskjold.

He was travelling with a dozen or so colleagues and I was immediately to recognize Per Lind. The Lebanese Chief of Protocol Abu Ezzedin and Lillan proceeded to take care ot the group where the body guard Bill Ranallo dominated.

Abu Ezzedine had organized a glass of Champagne to exchange New Year wishes and we could hear corks popping. However , a fateful mood could be felt, not only for a New Year but for the new ongoing international dimensions.

When the planes tanks were filled the party boarded once more . This happened in the early dawn of the first of January and our glance followed the gleaming metallic object as it disappeared beyond the morning light.

In Dag Hammarskjolds posthumously published « Vagmarken » (Road Signs) you can read for the 30.12.54 the following citation :

« If I take the wings of the morning and remain in the uttermost parts…. »

The Wings of the morning – this suggestive picture from the 1662 Common Prayer Book played a role on the conscience of the well-read now leading actor on the worlds stage. He saw himself in the role of fates' or, in his own words in Road Signs ; a « tool of God ». On his airborne voyage across the globe he chased a diplomatic breakthrough « in the uttermost parts » . This was poetry. For us with more prosaic leanings who remained on the tarmac at Khalde airport it meant that the Secretary General had opened a daring and risky attempt to dialogue with the Chinese Foreign Minister Chou En-Lai. Our eyes followed the plane as it ascended towards the vague contours of the crest of the mountains of Lebanon. We all kept a memory of having spent New Year's eve with a most private personality.

For my own case , this remarkable event was mixed with the feelings I had the previous year when a less daring decision by the Secretary General stopped the revelation which had glimpsed on my subordinate horizon. It felt rather awkward that he had not wished to with a minimal regretful – much less explanatory - word touch on the subject when he had an opportunity to do so. Instead , he had let his famulus and hench man Per Lind convey Hammarskjolds wish that our expectations must sadly be abandoned : The scoop this time had received a main title in my diary. I had called it « The Decade's Oil Deal ».



Contents

A Professional Traveller in Humanities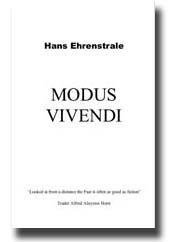 A Child of His Time(1914-1942)
Home, Schooling. Fjellstedska Gymnasium in Uppsala. Student in Lund. Theologist. Declaration of War. Ideological engagement.


Greece (1943-1945) The Neutral Commission. Delegate. The Battle for Patras and its Liberation. Maria Karumba. Events Post-Liberation. Travelling home for Christmas via Naples. Conflicts; Self and Others'.

Post-War Europe Occupied Germany. Poland. The Wolves Lair in the Forest. Individual Help and the Smuggling of People. On Whose Instrucitions: Swedish, American or NKVD? UNICEF. Journey to Roumania. Visa Problems. Pellagra. Raoul Wallenberg. Expulsion from Roumania. Tito Was Youguslavia.

Middle East (1950-56) Beirut – Home for Six Years. Border Formalities. Blankets for Ankara. Camilles Cadillac. Powder Milk for Gold. A Kosher Problem. Aleppos Secret Town. Illiterates in Bagdad. A Museal Pest. An Urgent Mission. Two General Secretaries. Dag Hammarskjold drops the Petrol Negotiations. Earthquake in Iran. Sarafians. O Basilevs.

East Africa
Southern Arabia (1956-64) Addis Abeba – Initial Contact. Unknown Somalia. Development Aid and the Coffee Markets. Missionaries Came Before the Explorers. Aden Climat. Prudish Line in Colony of Aden. A Unique Advisor. Small is Beautiful. New Facts about Mermaids. Blessed With Camels Milk. Sputnik. A Baptism With Consequences. Dottores Emperor. Thoughts on Aid. An Irritated Chief of Protocol.

Central Africa (1964-67) A Prime Minister in Congo. Meeting in the Rainforest. Elysee Canidate gives a show in atavism. National Day of USSR. A Time of Projects. Christmas Star from Bangui. Two Attempts in Gabon.

The Ivory Coast (1967-70) Where is Development? White Telephones. The Statesman Pays Tribute to the Moon and Feeds the Crocodiles.

Algeria (1970-74) The Algerian Algeria. Fundamentalists in the Casbah. With Boumedienne in the Desert. Middle Men in London. VIP with Prizes from Nobel and Stalin.

London with Amnesty International (1974-76)
Theobald Street. Double Standards. Political Prisoner in Teheran. Another Attempt in Gabon. The End of an Emperor. We Meet Again in Uargal. Revised Thinking. Empathy – To Be Oneself. A Sloath out of his Career. A Difficult Death.

Retreat to Sweden 1977 - Two on a small Book. A Necessary Trip. Again in Moscow. Worldly Recognition in Perspective. Mene Tekel by the Road. The Worries of the Heart.